Certified Financial Group is proud to welcome Wynn Smith, CFP®, PPC®, to our firm! Wynn comes to us with over thirty years in the financial services industry.  He is CFG's Pooled Employer Plan (PEP) Consultant and Specialist for employers seeking to change to or establish a new turnkey retirement program utilizing the SECURE Act's newly created pooled employer plan.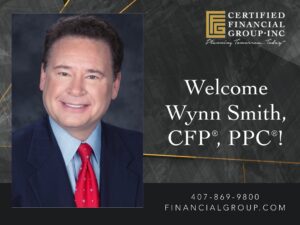 Until recently, traditional retirement services could be too costly for businesses, preventing many organizations from offering retirement benefits to their employees—and leaving nearly 40 million Americans without a 401(k) plan.[1] Multiple employer plans, or MEPs, available since 1947, were touted as a less expensive option, but they were only available to certain industries and came with a lot of rules.   On January 1, 2021, all that changed, when pooled employer plans, called PEPs, became available through the ratification of the SECURE Act.  Now, organizations from any industry may pool together on a 401(k) plan, lowering costs for business owners and providing a means of simple plan administration.  This new development should not only create opportunities for employers who feel that a 401(k) plan is too expensive but also for employers with existing plans to satisfy their fiduciary duty and compare their plans with the new PEP 401(k).
In preparing for this role, Wynn became one of the less than five hundred holders of the prestigious Professional Plan Consultant® designation and is one of the first of very few PEP providers and consultants in Central Florida.  He understands how important retirement plans are to employees and employers.  "Good personal financial planning always begins with a thorough analysis of any employee benefits available to a client.  As a Certified Financial Planner® professional since 2004 and as a Registered Employee Benefit Consultant® conferred from The American College in 2008, I am well aware how a good benefit package can help lay the foundation for financial success.  Having a MBA and with experience in the financial services industry that spans from working for a Fortune 50 corporation to being a sole proprietor and also having owned three restaurant franchises, I understand the challenges business owners and executives face especially how difficult it is to win the war on talent while keeping an eye on the bottom line," says Wynn.
A lifelong learner and student of financial services, Wynn holds sixteen professional designations, some others not previously mentioned are: Chartered Financial Consultant®, Chartered Life Underwriter®, Registered Health Underwriter®, Life Underwriter Training Council Fellow®, Chartered Advisor for Senior Living®, Chartered Property Casualty Underwriter®, Fellow, Life Management Institute®, and Fellow, Financial Services Institute®.  He is involved in professional associations having served as President of both the Tallahassee Association of Insurance and Financial Advisors and the Gainesville/Ocala Chapter of the Society of Financial Service Professionals, Treasurer of the Central Florida Association of Health Underwriters, and Secretary of the Central Florida CPCU Society Chapter.
"I could not be more pleased to be part of such an outstanding group of Certified Financial Planning® professionals at CFG and being able to offer CFG's new Certified 401(k) Plan®, a pooled employer plan to organizations with and without retirement plans is icing on the cake," says Wynn.
Even though Wynn anticipates being very busy as the advantages of a pooled employer plan become apparent, he does plan on taking some time for himself.  When not working, his current project is applying permaculture principals to his suburban "homestead" in the Markham Woods Corridor.
If you are interested in learning more about the newly available Pooled Employer 401(k) Plan then email Wynn at wynn@financialgroup.com
[1] Braverman, B. (2019, September 27). Finally, relief for 40 million Americans without 401(k) plans. CNBC Small Business Playbook. https://www.cnbc.com/2019/09/27/finally-relief-for-40-million-americans-without-401k-plans.html