Certified Financial Group is thrilled to announce that Matt Murphy, CFP®, has joined our team of 16 CERTIFIED FINANCIAL PLANNER™ professionals!
Matt comes to CFG with nearly 22 years of experience providing investment, insurance, estate, and financial planning services to clients. Matt graduated from North Carolina State University with a Bachelor of Science in Management, concentration in Finance, and a minor in Spanish. Having been surrounded by so many in his family also in financial services, Matt started his career educating new retirement plan participants about their 401k plans, including tax benefits and investment options. This experience not only taught him to explain complex financial topics in a simple and easy to understand manner, but he also realized that he loved helping clients learn.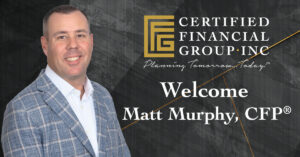 In fact, it's one of his favorite parts about being a financial planner.
"One of my favorite moments with clients is when I've presented a plan to them, and I get to either show them they're on the right track, or the plan to get them on track," Matt says.
"I love working with clients, but what I really enjoy is the relationship with them. I love to know about their kids, where they went on vacations, and what their aspirations are," Matt goes on. "This is a big reason that brought me to CFG."
Matt also believes that those relationships are best when founded upon candor and transparency.
"I love listening, and I love bringing authenticity to the conversation and the relationship. I'm never going to act like I'm the smartest guy in the room – I value my clients, their knowledge and insight, and I approach every client relationship as a collaboration," he says.
Matt and his family have lived in Central Florida since 2003, currently residing with his wife and two daughters in Longwood. Outside of work, Matt's passion is traveling with and caddying for his two daughters who are both competitive golfers. The family most enjoys the annual trip to Pinehurst, NC, the American "home of golf", where both his daughters compete each year in the World Championships. Matt also enjoys cooking, reading, and following a consistent exercise routine.
Matt is an Investment Advisory Representative of Certified Advisory Corp, a Registered Investment Advisor. His other professional licenses and registrations include Life and Health Insurance and Variable Annuities license with the State of Florida. Prior to joining CFG, Matt spent just under 12 years as Vice President, Financial Consultant with Fidelity Investments in Central Florida.
To schedule a free, no obligation consultation with Matt, click here.
Thank you Matt, for being a part of our incredible team of CERTIFIED FINANCIAL PLANNER™ professionals. Welcome!