Certified Financial Group (CFG) is pleased to welcome Charles Curry, CFP®, AIF®, MBA to our team of CERTIFIED FINANCIAL PLANNER™ professionals!
Charles has over 20 years of wealth management experience working with high-net-worth individuals, families, and organizations in Central Florida. He served most of his career as Vice President at Charles Schwab and at SunTrust Bank. Charles advises clients in all aspects of their financial lives and brings his vast experience to help you accomplish what is most important to you. He is a CERTIFIED FINANCIAL PLANNER™ professional and an Accredited Investment Fiduciary®.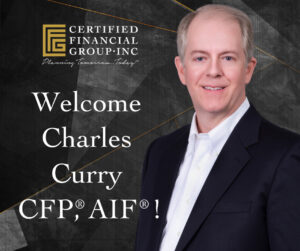 "Meeting with families and hearing their story on how they got started, what business they are in, their retirement plans, and how I can help them accomplish their goals are some of my favorite things about being a CFP®," says Charles. "I get to focus on how I can help them achieve their goals and make their dreams a reality."
Charles is excited to join our team of 15 CERTIFIED FINANCIAL PLANNER™ professionals at CFG. As a fiduciary, he advises high-net-worth individuals, families, and organizations in all aspects of their financial well-being. As an independent practitioner at CFG, he and our other planners are free from the inherent conflicts that result from proprietary products sold at most large institutions, which means his primary focus is on the client's success, not the firm's bottom line.
Charles is a native of Central Florida and earned his Master of Business Administration (MBA) from Rollins College and an undergraduate degree from Wake Forest University. Active in the community, Charles has served as a past board member of the American Cancer Society, the Central Florida Estate Planning Association, the Heart of Florida United Way and his church. When not advising his clients, Charles enjoys traveling with his family, boating, golf and photography.
Charles will be conducting wealth management workshops in our brand new, state-of-the-art Learning Center in the upcoming months and is available for complimentary consultations in-office or virtually. You can find his online appointment request calendar here.
Welcome, Charles!